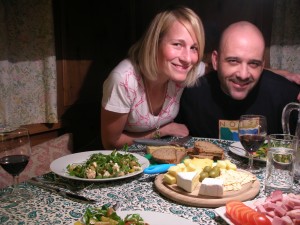 Our guests were kind enough to invite us to have dinner with them a few times this week and Maaike made some delicious meals!  Excellent company and a great atmosphere makes for memorable times.
We are in a major pattern of snow and it has hardly stopped since Wednesday.  Today we skied in Stuben with our guests and it was fantastic.  The storms reach Stuben first and it was incredible to see the amount of snow they have received this week.  The parking lots were buried and they are already looking for places to put the snow!
Its a winter wonderland here in St. Anton – We recommend making a trip to visit!
Kind Regards,
Maaike and Ross